To,
The Journalist,
Who stole my story
Nepal
Subject: Reminder to be accountable
Dear Friend,
I hope you are doing well. I love reading your writings, I still follow your news stories and I am so glad and happy for the growth I have seen in your writing. I really adore the way you use your writing to hold the government accountable on different issues. Regardless of the amazing works you do, there are some "Chitta Dukhai" mero. Writing this letter to inform you and many other journalist friends about my non-negotiables.
A journey from being your online friend to being a companion for a while was a memory we shared.  It was a journey for me from having  insecurities to feeling comfortable sharing several unspoken stories with you.  We could not continue our companionship for several reasons, which might not be that important in this letter. We know we stopped being friends for our own good. After a few months, I got several messages that 98XXXXXX has called you. I was not in the space to talk to you and I did not call you back. The next evening, I came across the news which had a graphic description of me and my story. Graphic description of my story with the pseudonym "Saraswati". Saraswati is me, the name that I chose for myself. The name that I have been using ever  since I understood that there are no terms to use your legal name everywhere. And here I was looking at the article with details of my story, with my name. You had the courtesy, no… audacity to write "Saraswati(Name Changed)".
I struggled a lot that day, that night. There is a myth that people keep glorifying in mental health scenarios/fields, "Sharing is caring, sharing would make you light". But what if sharing a traumatic story is reliving the traumatic event? And you sharing my part of the story, without my consent, was heavier than I imagined. I could not even cry, I was numb. I had no strength to call you either. I remained astonished and speechless as I recalled  our conversation about media ethics long ago where you were talking about the importance of consent. I remember you being so concerned when firsts of COVID patients' contact details were released. I thought you held genuinity and concern for other people but where were the same principles of consent, ethics of media and genuine empathy for me? This is not a complaint but a reminder for you next amazing stories, you choose to cover:
Professionalism
I know I do not need to define "Professionalism" for you. I am not a Journalism student. I might not know much, but I know that there is a thin line between personal life and professional life.  A reminder for you that I shared my story because I felt comfortable around you. Because I chose to be vulnerable around you and I trusted you. Your role was of a friend, who was there for me to console and validate my feelings, like a good friend does. Your role in that very time was not that of a journalist who would later publish my story in the national daily. I don't remember sharing my story to a journalist. I guess professionalism is not about fitting into a rule box but also understanding the context of the shared story and the intention behind the conversation.
Consent  and Privacy
You might have a counter argument that you called me several times.  But on my part those were the missed calls – conversations that I chose not to engage in. I do not owe any clarification to anyone for why I chose not to receive the calls. But this is the fact that I didn't consent for the story to be published. I owe an explanation. Another reminder for you that consent exists beyond  sexual activity. Consent exists in every life experience. If the other person has not said yes, then it's a  clear #NO.
One thing that I could not wrap my head around is why you chose to write  Saraswati (Name Changed). Though my legal name is not Saraswati, I had spent many hours explaining to you how much I love my pseudonym. Not disclosing the  legal name is not the only way of ensuring privacy. Many times, pseudonyms are something people use to identify themselves, more than their legal name. I got to know about the article through a friend because they identified the  pseudonym. A reminder that the term #NameChanged stands for name actually being changed either it be the legal or pseudonym. Its objective is to anonymize the identity, not play the guessing game.
Ownership and Data
During my highschool, data would always remind me of numbers. Now that I am practicing social science, I understand that data are more than numbers. Here is another reminder that stories are crucial data, the way you credit other data sources, you need to credit stories as well. Reminding again that credit is the second step, consent will always remain first. When I went through the article I felt robbed. The story that I had treasured with me and shared with you, entrusting you to hold space for my story, was out there – in each screen and papers across the country. I can understand your intentions behind sharing the story but sometimes intentions are not only enough, you should ask the owner before you take the treasure and distribute it.
Writing this I don't mean to blame you or outnumber you but I wanted to write this letter to all the journalist friends so that they can check upon themselves. They need to understand what privacy and consent means. The impact of their writing on people, whose consent and trust has been violated. Ethics exists in practice in newsrooms, in conversations with people and in published articles in newspapers.
I hope you have days to learn new beliefs, unlearn old beliefs and relearn new values.
Regards,
Saraswati,
Whose story was stolen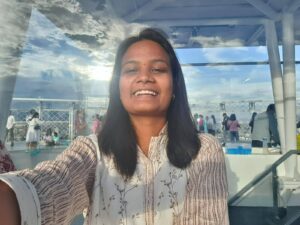 Saru is Story Curator. Personally, she believes in stories, believes in the impacts of stories, and believes that everyone is a storyteller. At the moment, she is figuring out the different ways she can help people tell their own stories. For now, she is contributing to bringing forward stories through Utar Chadhav.