Author Shailee Chaudhary
On 18th March 2020, Ward Committee of Ward No. 5 of Simraungadh municipality, Bara proposed and passed a rule stating "the ban on the use of mobile phones by unmarried women and a fine of NRs. 50,000/- incase found in possession of mobile phone" with the view that access of internet to females and young girls could be "contrary to the public morality or decent behavior,". This was solely done in the virtue of the belief that mobile phones lead to eloping of girls and hence, the local elected authority hoped to create a sense of fear and restrictions among women and girls. This was an obvious example of violation of fundamental rights ensured by the Constitution of Nepal. Thus, many human rights defenders, journalists, and civil society raised their voices against this announcement which forced the local representatives to sack the rule within a few hours of the announcement. It can be read here. Although the ban was lifted, the local representatives and localities were happy with the decision to ban imposition. This depicts the biased perception of people towards the access of the internet by young girls and women.
The dire need of technology in disseminating information and easing communication can be seen in the developed countries. It has further proved to be an enabler of development. A series of researches in the Information & Communication Technology (ICT) and Development (ICTD) paradigm has put forward an evidence of the association between Internet adoption and development, especially economic growth (e.g. Qiang et al., 2009). With these things in consideration, policymakers in Nepal have been reiterating to build infrastructures for ICT without any deep assessment on different aspects like access and affordability of the community. For instance, the Broadband Policy (2015) aimed to connect all the districts by an optical fiber network by 2020, which obviously could not succeed in retrospect for reasons like city-centric internet facility, a great mass having lower income, substandard internet connection.
But the real question here is, in lack of enough penetration of the internet in household and public space, is access and experiences of broadband services in Nepal, especially of the Southeastern Madhesh region, also skewed on feminist lens?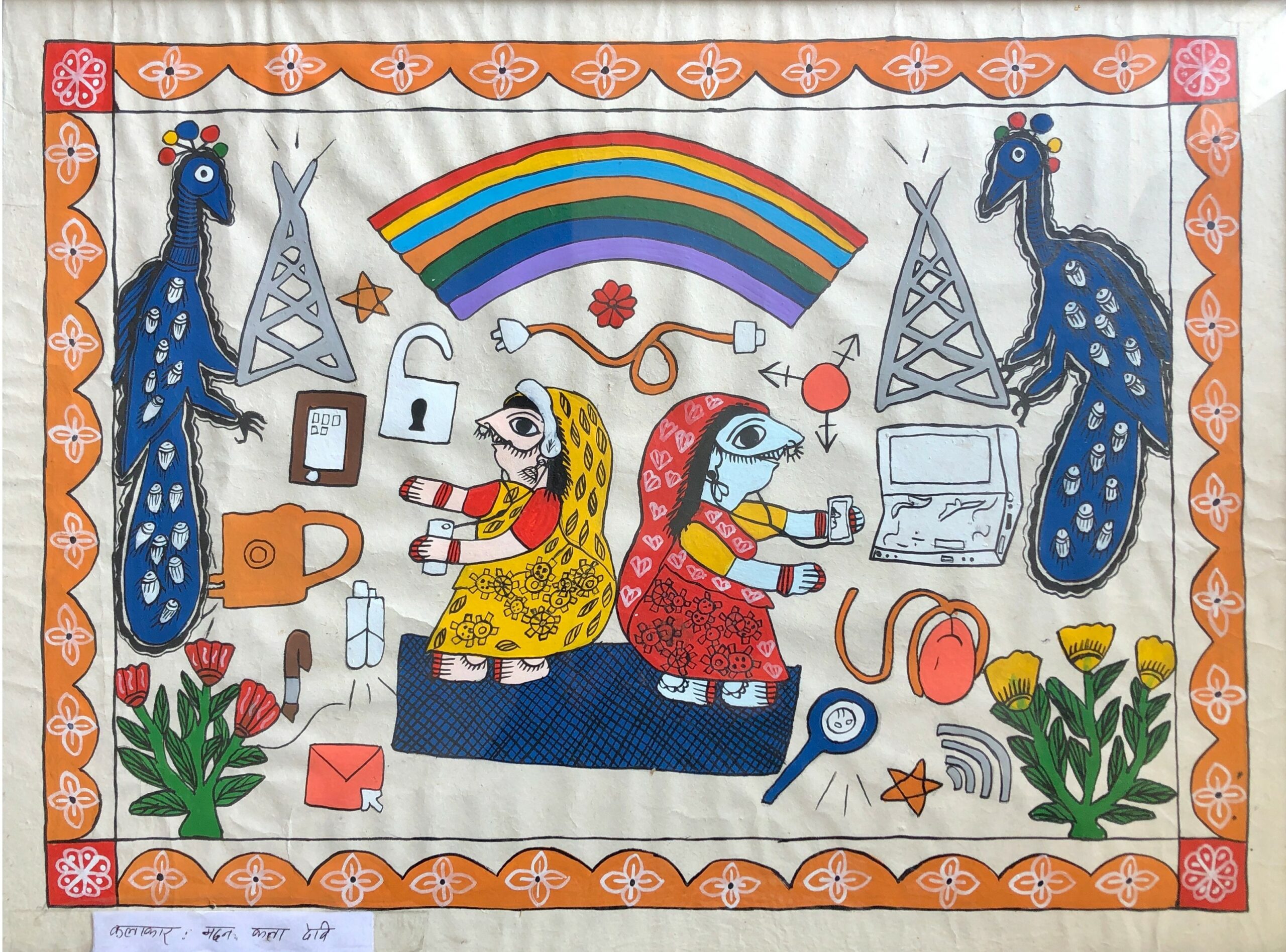 Despite the COVID -19 pandemic and nationwide lockdown through most of the year, the Nepal Telecommunications Authority, which includes five Brahmin males only as the core committee members, claims the surge in mobile internet users by 12.14% as of last year's figure resulting in 21.80 million users by Fiscal Year 2076/77. However, the access of the internet was reported way under by International Telecommunications Union and the access is not as thorough as presumed on gender basis in Madhesh region of Nepal. Madhesh, which is the hub of cultural amalgamation, still has not erased the misogyny in daily practice. In presence of disparities in roles assignment for males and females and/or non-binary people in both personal and professional spectrum, it is quite evident to observe the biased access of the internet to the young girls and non-binary people.
Moreover, it is believed that the access of the internet to girls would adversely influence the upbringing of the "females" resulting in "immoral" things like eloping with the loved ones, undermining their norms (being "non Sanskari"), child marriage, among many others. Furthermore, the internet is thought to mold their values and responsibilities in contrast to what should have been an "ideal" society per se. In other words, they might become "feminist" which is somehow taken as the enemy by the misogynistic people in the patriarchal society. 
In contrast to the statement that everyone has equal rights for the access of online space to express themselves, in Madhesh, the case is substantially contradictory. Despite the supposed facilitation of broadband services in different districts of Madhesh, many women are yet to get an opportunity for accessible internet. This doesn't apply only to housewives and young girls but also many elected female Ward Officers, members, and local representatives, especially in remote and impassable parts of Madhesh. At the same time, women and young girls from minority communities like Dalit, Muslim, Janjati, and others find it almost impossible to access the internet as it is quite difficult for them to even live a free independent life, let alone the luxury of any smartphone, computer and broadband services.
However, with changing times, the internet has expanded into a multidimensional and multifaceted service. Especially during and after the lockdown, Madheshi youths got more involved with the use of the internet for several reasons, like communication, business, entertainment and more importantly learning new information and skills apart from social media usage. With the advent of the internet, our world has shrunk into one gigantic village.
Internet does help to acquire new skills and empower oneself. A simple keyword search on the search engine can avail tons of resources and networking on the internet space where one could learn and do anything one could ever imagine, be it politics, gender identity, Mithila painting or whatsoever. It furthermore helps to bridge the gap among people across nations and expand a global connection from home. Recently, the internet has allowed me to freelance my translation skills, which paid me decently. But, like all the technological innovations of the modern era, there are certain unfavorable aftermath of the internet which pose great threat, especially that of digital privacy and data breach to its users and society as a whole. Also, despite the fact that the internet helps to conquer the challenges, it is expensive in Nepal with enormous ISP fees and data tariff. Along with it, the amount of personal information being shared on the internet is so enormous that personal privacy is at risk. It's not just identity theft that is an issue. Recently a fourteen-year-old boy from Parsa hacked social media accounts of film makers and demanded cash from mutual friends. The incident can be read here. All of our information is now stored on the premises of the use of the internet. This means our medical records, criminal records, educational records, and financial records are all completely dependent on the security of the sites that they reside on.
After all these struggles, if any woman finally gets the access to the internet and uses it to learn and keep her opinions forward on the online space, she is bombarded with the "hate comments", "rape threats" and even mob lynching in few cases. Many prominent Madhesi women online routinely face harassment, abuse and trolling. Recent incidents faced by Former MP Sarita Giri, Human Rights Activist Mohna Ansari, Mithila Artist and Poet Sapana Sanjeevani are the living examples.
Likewise, a female from Agrakhanchi, who was harassed online by a renowned journalist and Social Activist, is yet to receive justice despite her continuous struggle and appeal.
The access and experience of use of the internet for females and young girls in different parts of Madhesh are quite saddening and depressing. It becomes worse when the online space is used in a derogatory way to defame females and young girls on different headings. Despite living in the 21st century, the society we live in is still engulfed by the same old patriarchal norms which confines females and young girls within four walls of the house and expects them to act as a slave who has no voice of their own. Females and/or non-binary people still have a very long way to go and these unhealthy restrictions and deeply instilled stigmas will require so much more effort on different layers of society and government.