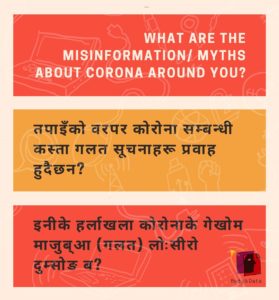 We are seeing abundant myths and misinformation about corona-virus (COVID-19), whether it be in Nepal or abroad. False information that is too good to be true, however, at the same time lacks evidence and research has caused mass hysteria among the general population. In Nepal, a lot of false claims – from the food habit intake by Nepalese to getting acquainted with the ongoing dust pollution – has speculated in various social media platforms. Our team asked different questions in our social media platforms using multiple languages (Bhojpuri, Bahing, English, Nepali and Nepal Bhasa) to raise curiosity among the public about misinformation around the COVID-19 pandemic. The questions included:
What are the misinformation/myths around corona-virus around you?
What do you think about the reliability of the information in social media about the corona-virus (Covid 19) pandemic?
Do you use any methodology for fact checking on the accuracy of information you get about the corona-virus pandemic?
What do you think are the harms of misinformation about the corona pandemic?
Answers from the public are kept anonymous and their views are reflected for the purpose of this article.
Some of common myths and misinformation about corona-virus (COVID-19) in Nepal are: 
Myths around cultural and traditional values 
Food that Nepalese eat prevents us from getting corona-virus is commonly heard in the country. Claims such as intake of certain food – turmeric, garlic, hot water with vinegar, chicken soup, spices, panchamrit (consisting of five ingredients: yogurt, milk, honey, sugar and ghee), raksi, gaumutra pani, chillies, and lastly, weed – will cure us from corona-virus are some lucrative home remedies that gives Nepalese a sense of false security from this pandemic. We probably heard these from our friends and family, and of course those never ending WhatsApp  and Facebook forwards. The very idea that if you consume certain kinds of food, you will not get the virus, is one of the widely-known myths around corona-virus in Nepal.
Interestingly, some myths link to our previous claims of Pashupati Nath – one of the important religious temples of Lord Shiva – protecting Nepal from two consecutive earthquakes in 2015 and in the same way, is now protecting us from corona-virus (COVID-19). With chanting prayers, offering dudh puri and other food items will protect us are also some religious and traditional myths around corona-virus in Nepal. These myths are deeply rooted with the feeling of ethnocentrism that makes people proud of their heritage and culture at times of crisis.
Nationalistic views promoting corona virus myths  
In early February, the Tourism Minister of Nepal promoted Nepal as a coronavirus free zone, encouraging tourists to visit Nepal. One article published on 13 March 2020 provides assumptions among many –  the high immunity power of Nepali people  – on the low number of corona-virus cases in Nepal. Several nationalistic views on how people of Nepal have strong immunity to tackle such pandemic, how we easily digest the food (even corona-virus) and claims that the virus would never affect Nepali people are some widely held false beliefs, as gathered by our audience.
Some of these myths were later challenged with an increase in the corona-virus cases in Nepal since March 2020. As of 15th May 2020, we have 249 confirmed cases with 35 recovered and 0 fatalities. However, citizens still hold the fallacious notion that Nepalese are physically stronger than other nationalities.
Myths around climatic and age factors 
Nepal is currently transitioning from winter to spring season and myths around how the climatic conditions will wash away the corona-virus as summer awaits are senseless, as our audience expressed. Secondly, age is just a number during a health crisis. Certainly, some age groups (especially the elderly and old age groups often with pre-health conditions of diabetes, heart problems, lung problems etc) are at a high risk for corona-virus (COVID-19). However, these criteria do not mean the virus does not affect children and youth. The recent statistics from the Center for Disease Control and Prevention (CDC) in the US explained that nearly 40% out of the 2,500 recorded cases of younger adults (aged 20 – 54)  in the US were hospitalized for confirmed corona-virus, as of March 18 2020. This clarifies that even if you have a strong and healthy immune system, you are not invisible to the disease. So, STAY IN and STAY SAFE !
Reliability and Fact-checking of information about the corona-virus (COVID-19)
When audiences in our social media (Instagram) were asked, 9 of the total 10 respondents did not find the information about pandemic reliable. This data further insinuates the abundance of misinformation online.
Considering the abundance of information we consume daily, reliability and accuracy are questions to think about while reading or hearing any news around the pandemic. Respondents shared their lack of trust with YouTube journalists, and a few pages and online portals who use eye-catchy titles just for click-bait, oftentimes posting unnecessary information just to create panic and fear among the viewers.
When asked about a trusted and reliable source, many view WHO as one. Besides the verified sites, our audience shared that they check sources and talk/discuss to their friends as a way to cross-check the continuous flow of information online. The limited number of responses from our audience regarding the question of fact-checking methodologies may justify the lack of knowledge and literacy on how to stay informed and have accurate information on the internet.
While realizing the harms and risks of misinformation around the coronavirus (COVID-19 pandemic), it is important to explore and use tools, and methods to mitigate consequences of various information we consume. For the same, there are platforms – Snopes, EUvsDisInfo, South Asia Check, Meedan, Nepal Fact Check – that can help to check facts and debunk myths on the evolving coronavirus (COVID-19 pandemic). To stay informed, people themselves can check the sources of information they read  through a quick search on the internet. By doing so, they can be aware about the misinformation floating around the online spaces.
Harms of Misinformation
A news report from Iran found out that more people died in Iran's Fars province from alcohol poisoning while protecting themselves from coronavirus than from the disease itself. As of 21 March 2020, in Fars province, 13 people died from COVID-19, whereas 66 people died from consuming industrial-strength alcohol. This is how misinformation causes more harm than good.
One respondent says, "Misinformation creates confusion among people. We start to question the credible sources as well because there is so much information flowing on the internet". Mental health issues, depression, and racial tensions are other harms of misinformation addressed by our respondents . The harms of misinformation could go from eating certain food for false pretense of security to real life consequences such as recent instances of increased islamophobia and targeted harassment online in India.
The blog on "Corona Epidemic in Nepal and Misinformation" written by Shubha Kayastha, the Executive Director at Body and Data, explores more about the harms and risks of misinformation and disinformation around the corona pandemic.
If there are more myths/misinformation that we have not covered yet, please do not hesitate to share it with us 🙂
By Neha Gauchan, a dance enthusiast.
Thank you to Neha for bringing this blog to life as well has helping in the planning and implementation of our Misinformation Campaign during corona pandemic in Nepal.