Written by रिम्सोङ्मा (Rimsongma), Art by her friend
Pleasure of practicing Agency, Autonomy and Self-Determination
My first experience with porn was back in 2008. Watching porn was hugely uncomfortable and shameless thing. Obviously, because it was about sex, but also because society considers women who watch porn or sexual materials as sluts or characterless. When in reality, it's more than just sex. For me, porn sounded unreal and unrelatable before (still many of them do) however, it turned into one of the beautiful things I realized about the internet. I watched enough porn – alone, with friends, and with partners. With time, it was more than just sex, it was accompanied by pleasure and care for my own sexual being.
I came to know how masturbation can be done – what it has to do about my relationship with my own body and well-being. I was able to explore myself and multiple scopes of pleasure all along and it has continued. I discovered my own know-hows on what thrills my body, and my body's language, what forms, and how to. It was the feeling of a butterflies in the belly. Knowing these things makes me happy. The Internet has been such a strong part of my life in exploring my own understanding of self, ideologies, relations, and pleasure and its dimensions.
Before, internet was not my cup of tea – even mobile phones and social media felt distant to me. On the other hand, the physical world used to be everything to me. Things has changed and now internet is COMFORT for me. Yes, as many of us, I have also experienced violence, unsolicited content sharing, threats, and censorship yet on the internet space, but I resist, own, and claim this space as mine. I have discovered my friends and communities, entertainment, knowledge, work, care, and sheltered SPACE to be who I am. Internet has shaped my feminist self and values and given me space to express and explore myself. Fortunately, I was validated, welcomed, and loved. Trust me, it is magical.
Here through Internet, I happened to know about spaces like Agents of Ishq, Induviduality, The Vulva Gallery and different narratives that made me love my body and skin more than ever. My insecurities and hatred towards my body turned into appreciation and thrived. Yeah, I believe that I am beautiful. I did not have to confront the statement like, "Why your boobs are so flat? What's wrong with your skin? How your lips are swelly?" even before I got to introduce my version of myself. I agree, capitalism and dominant standards of beauty and perfection remind us all the time that you are not enough. But then, I also have the opportunity to just wipe them out with the contents I want to witness and feel like seeing.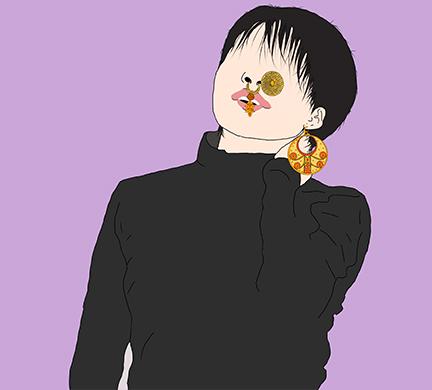 Apart from the relationship I have with myself, my body and my sexuality, Internet also helped me reshape the relationships I have with other people. Being an extrovert and a sensitive person, touch and hug is my love language. I always feel love and connections in touches and hugs more than anything. However, when he touched me, it wasn't connection, rather it was violence. Each part of my body and soul felt abused and worn out. It was a threat to my sense of self, trust for love, and an attack against my bodily integrity. I got lost, froze, cried, and somehow was able to save myself. That wasn't love and romance rather was cruelty and fucking lust.
I was divested at the moment and it went on with me for quite a long-time which resulted in huge insecurities and untrust towards myself and my partners. Honestly, I never imagined my pleasure moment to turn into such a horrible experience. Nobody does. After that, I had romantic relations but I pushed myself, my emotions, and my partner away just to make myself feel safe. Nevertheless, I wished for touches, close moments, and romantic intimacies in physical life.
I got to know about dating apps through my colleagues and started exploring them. It was fun but mixed experiences as many of us have at the beginning. I dropped the idea time and again.
Covid shifted everything online. I re-joined the dating app.
A caught me with profile status mentioning "Anonymity is okay" and we started to talk. The conversation obviously reached to sex and romance but beyond that, it was also around our society and realities of life, frustrations and satisfactions, and more. We did explore sex with sexting and video chats. Surprisingly, it was very enjoyable and satisfying. Most importantly, I did not feel abuse or hurt rather, I felt all touches, kisses, moments, and connections. We did it multiple times and I totally felt safe and loved it each time.
We promised to stay anonymous to each other. It really allowed me to explore myself comfortably. That privacy made me feel confident and safe. I was engaged and I felt powerful to have an agency in the relationship. Here, I was an autonomous and equal being without undesirable pressure or power-play.  I realized that I was able to act around my choices and care for myself. I had more opportunities for agreements, setting boundaries and limitations with little to no influence by the next person. I was able to protect myself yet exist.
Whereas in physical life, it's very hard and near to impossible. Most of the time, I felt losing my power while negotiating. Conversation on mutual consent and respect were rare in real-life relationships. Online, I felt validated while I express and make choices. Offline, I had to face a bunch of accusations in questions like "Oh! Where did you know from? Pro ha?''
Meanwhile, I was also talking with another person; Z at the same time with the same intensity. We happen to meet 2 years back on the same platform. I was as intimate and engaged as with Z as I was with A. I loved everything about it. I never felt bad about seeing two persons at the same time but I wonder if it was a new discovery about myself and if I want to explore more?
Apart from dating and exploring sexuality, unconventional resources and discourses available in Internet space and support systems I have in real life with like-minded people have been grilling, at the same time it is affirming my own identity, values, hopes, and dreams. Sometimes, it comes with lots of confusion and dilemma. However, I believe it will make sense someday or the confusion might continue forever. I appreciate it as it's a process.