Written by Safal Lama
Every one of us felt uncomfortable and unhappy for being who we are at some point in our lives. It could be regarding our sexuality, Physical appearance, skin color, caste, culture, language, family background, or geographical structure. At a very young age, we learn to compare ourselves based on what others think we like to follow the patriarchal norm, stereotypical system, and standard thought on how we need to act as sex characters. While I was passing through a young age, I had been taught how to be, act, and do – masculine. I grew up in an ableist system where language was meant to be sarcastic and hurtful slurs, and without my needs of accessibility. They are able to do anything and me NOT.
I grew up in a place where we rarely used the internet. It mainly was at school for an hour and even then, sometimes we didn't get to sit or use a computer. Around the same time, I was confused and questioned my sexuality. I used to hear that if you are a disabled person, you can't do anything and are considered worthless and cursed. These types of statements and narratives have so much power in us, that our young mind is even scared of questioning our disability and sexuality.  We have never been taught about sexuality.
In our computer lab, I still remember one day I just googled "what if boys have feelings for boys" but due to poor connection, the page kept loading for more than two minutes. Before the content showed my friend came. I was startled and quickly pulled the computer plug.
But that statement has always been on my mind forever… "what if boys have feelings for boys". What if I ever encounter that scene again and how would I tackle it? Would they even accept me for who I am along with my disability?
After graduation from secondary school, when I got my first cell phone, the first thing I did was google the same statement. It was a whole new world for me. I got more than I searched for. I only searched regarding the preferences of one perspective but then I got to know more and indulged in the history of queer culture, the activism that has been going on, and the importance of awareness regarding SOGIESC. From my side of the world  where cultural and traditional norms are of importance, and the patriarchal system rules us, I reflected on how I would survive and would our government and culture accept me being queer and disabled.  It was a gate for me to know all those sexual terms and things about sexuality. On the other hand, I was curious whether any Nepali guy in my surroundings was queer or not.  What if I'm the only one? This curiosity led me to find more people in the community. I did not know what the word anonymous meant but I was scared to use my legal name so I opened Facebook with a fake name. That is where I slowly connected with people who identified themselves as gay. I was happy but my happiness was too short. When I told them about my disability, they immediately said, "That's not true. Gay can't be disabled"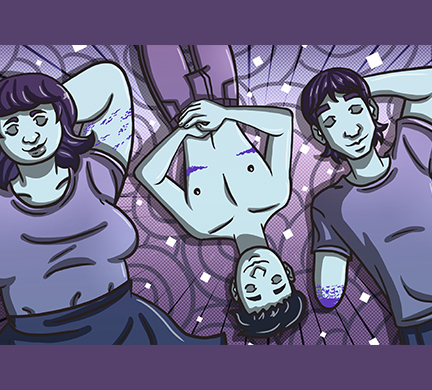 That statement made me so uncomfortable and traumatized that I started questioning my identity again – what does being queer mean to me, what does being disabled mean to me.  Slowly and gradually I accepted my multi-identity.  But I have come across to realize that this multi-identity wasn't something for people even in the queer community and/or disability community accepted.  "Queer community itself is not able to address from the intersectionality lens and is not able to adopt diverse people within the community" Multiple times I had been questioned regarding whether my identity was valid enough. They labeled disabled people cannot be queer and here I am both queer and people with a disability.
To find a community of multi-identities with their issues to address, and who had shared similar struggles as mine, I made an anonymous account on Facebook. Slowly I got to connect with more people like me, and share our issues – what we want and need. . This exploration made me comfortable to find the community, but also question why people are still lacking in multi-identities.
From where I'm standing, what queer activists need to understand is the accessibility of content which is not friendly and is biased against people with disabilities on the digital platform and other broad problems of the disability community. Only the disabled community is aware of the issues. But beyond that, issues like queer disability issues, queer Dalit issues, queer indigenous issues, and these intersections aren't talked about in disability spaces.
As myself, a person with multiple identities appeals that we have to understand the interrelation, and intersectionality of marginalized communities while interlinking it with digital access and digital rights. Where are digital rights for people like us? We are just struggling within our community.  We all know that today's generation is more powerful regarding the impact of digital media but still, people are lacking and unaware of the proper digital accessibilities and neutral languages. For instance, when I was exploring myself and understanding my multi-identity there was no availability of accessibility to the definition, terminologies, neutral languages, networking, and empathy lens. On the other hand, within the community there were biases of abled bodies and the hierarchy of disabled visibility which constantly put people at double marginalization.
People with patriarchal mindsets focus on hate speech, memes, etc. discriminating against marginalized communities, which is not making digital space safe for us. Having no access to content online, and communities online are discrimination. This is what modern patriarchy and ableism in digital space looks like. People have been forgotten and traumatized. People with multiple identity can find digital space as their second home but lack of sensitivity and awareness towards people like me, it is unsafe. So, through my anonymous account interlinking disability and queer issues, we are creating spaces where we feel comfortable just for existing or sharing our perspective.
Being anonymous helps me to understand the person I'm and the narrative of the multi-dimensions of multi-identity. Being anonymous can be a major way for someone to live their life as who they are. On the other hand, there are also anonymous accounts being disrespectful and promoting hate speech. Everything has both positive and negative aspects but I think it depends on us which path we want to take and how we choose to use the platform. Anonymity helps people to be safe and comfortable expressing themselves in the context of political biasedness, misogynist behavior, to liberate themselves from problems, insecurities, and queerphobia. Our society still is not able to focus on the needs of the marginalized communities and be open-minded towards many communities. Therefore, it is especially important for queer people to have the option to be anonymous. I also use an anonymous account on dating apps and other platforms to share whatever I feel like sharing because of the queerphobia present around us.
Though we are living in the 21st century and at the revolutionary phase, the revolution of acceptance and validation is lacking. Until then, being anonymous on social media is comfortable for me, and being anonymous is what I choose to be.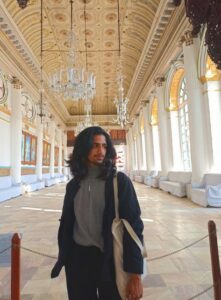 Safal Lama, 24 years old.
 I identify myself as non-binary disabled person and my pronouns are they/them. I graduated with a bachelor's degree in social work with a major in psychology and completed a diploma in psychosocial counseling. I have been a Global Young Influencer at Plan International Nepal 2022-2024. I am also working as a queer disability rights activist and counselor. I am a co-member of the Queer Youth Group Nepal and am running a page on Instagram @Queer.disabled.  I have experience working on gender equality and rights for the past 4 years. My working experiences include intersectionality, gender equality, engaging in advocacy on SRHR, disabilities, and mental health stigma, public speaking, communication, rally, event organizing, and hiking. Learning new things is part of my interest and ambition, and many more to go.